Art sticker books are a wonderful addition to your collage and ephemera stash. Use them with your microscope slide art, scrapbook pages, stamped card art, bottle caps, altered books, mixed media art and more.
All have acid free inks, paper and adhesives.
Classic Travel Posters Art Stickers Book~This is a collection of 16 art stickers depicting the golden age of travel in the early 1900's. Many are cruise ship and train related or some highlight destinations like the New York World's Fair. So take your self away to a far off destination in your art work, jewelry, bookmaking, scrapbook project. These actually look very nice in pendants- using part of the sticker.
$1.50
Leonardo Art Stickers Book~ A set of 16 well known Leonardo Da Vinci art paintings in sticker form. Paintings such as Mona Lisa, The Last Supper, Leonardo self portrait, the Vitruvian Man, several different madonna paintings and more. Acid free inks, paper & adhesive. Use on your cards, scrapbooks, microscope slide art, beveled art glass and more.
$1.50 OUT OF STOCK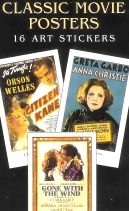 Classic Movie Posters ~ These miniature reproductions spotlight classic films like Gone with the Wind, King Kong, Citizen Kane, Dr Jekyl & Mr. Hyde as well as Greta Garbo in Anna Christie; John Wayne in New Frontier; G. Robinson in The Little Giant; Clark Gable in It Happened One Night; Fred Astaire -Top Hat; Marelena Dietrich in The Devil is a Woman; Barbara Stanwyck in Woman in Red; The Marx Bros.-A Night at the Opera; Douglas Fairbanks in The Iron Mask; Charlie Chaplin- City Lights and Rudolf Valentino in The Sheik. A total of 16 art sticker in all. Capture the memories!
$1.50
Cassatt Art Stickers Book ~ Did you know she is widely regarded today as America's greatest female painter? She worked closely with Edward Degas in Paris and is mostly known for her charming portraits of mothers and their children. This one is a keeper.
16 Stickers in all.
$1.50
Michelangelo Art Sticker Book~ You get 16 fine art stickers capturing some of the more famous works of Michelangelo like: the creation of Adam, God creating the sun and the moon, temptation and expulsion, the prophet Isiah and the Libyan Sibyl to name a few. If I understand the info on the sticker book, this collection represents 16 of the frescoes painted on the ceiling of the Sistine Chapel. These stickers had acid free inks, paper and adhesives.
$1.50
Classic Posters Art Stickers~ This collection of 16 stickers represents works by Toulouse-Lautrec, Steinlen, Cheret, Mucha, Penfield and Parrish to name a few. These are great on cards, ATC's, books, altered art, jewelry and more. These are made with acid free papers, adhesives and inks.
$1.50
Botticelli Art Sticker Books~ You get 16 different stickers. Some of the paintings include The Birth of Venus; Madonna del Libro; Primavera; Portrait of Dante; The Annunciation and Portrait of a Woman.
$1.50
Blake Art Sticker Books~ These paintings are from the series of books by William blake. Blake combined powerful images of mystical figures with profound and beautiful poetry. They were printed on copper and then painstakingly colored by hand. Some of the pictures include Songs of Innocence & Experience, The Book of Urizen, The Song of Los, Milton and Large Book of Designs.
$1.50
Van Gogh Art Sticker Book~ This is a collection of 16 different paintings some of which include Sunflowers, Cafe Terrace by Night, Self Portrait, Siesta, Staircase at Auvers and Vincent's Room at Arles.
$1.50
Egyptian Art Sticker Book~ A Collection of 16 different art stickers relating to Egyptian art like hieroglyphs, Ramses III tomb, tomb of Nefertar, Nebamun, Sennufer, Nofretari, several of the Egyptian Book of the Dead and more.
$1.50
Japanese Prints 16 Art Stickers~ This book has paintings of the art of Ukiyoe-pictures of the floating world. These reflect the life and culture of Japan from the late 17th century to mid 19th century. Included are works by Hokusai, Hiroshige, Utamaro, Eisho, Choli and others. Many beautiful women, florals and more.
$1.50
Horses in Art- Art Sticker Book~This is a collection of 16 stickers depicting horses in art. Some of the artists include: Orozco, Gainsborough, Velazquez, Moreau, Renoir, Marc, Clouet and more. Most stickers show the horses with riders, but some are just the horses. A great collection for all you equestrial lovers out there.
$1.50
Klimt Art Sticker Book~This features 16 different works from Gustav Klimt (1862-1918). Most are done in beautiful earth tone colors of yellow, orange and browns. Some of the works include The Kiss, The Dancer, Portrait of Helene Klimt, The Golden Knight, The Sunflower and Tree of Life. A wonderfully original way to enhance your prjoects, jewelry, etc.
$1.50
Dali Art Stickers Book~Like quirky, surrealistic odd stuff?-then you will like this book. Dali (1904-1989) was influenced by the works of Pablo Picasso. Some of the works included are: The Visage of War, Portrait of Picasso, Figure at a Window, The Poetry of America and Soft Watches.
$1.50
Monet 16 Art Stickers~Collection of 16 beautiful sticker reproductions of his major works including: Water Lilies, The Stroll, The Road Bridge at Argenteuil, Water-Lily Pond, Young Woman in a Boat and more. A beautiful way to enhance and art project, book, card, scrapbook, etc.
$1.50
Picasso 16 Art Stickers Book~This collection of stickers by Pablo Picasso contains works such as The Dream, Self-portrait, Seated Woman, Woman with a Flower, Mother & Child, Reclining Woman with a Book, Bust of a Woman with a Hat and others-16 total stickers.
$1.50