Corrine's Domino-Stampers Anonymous stamp
Domino beads can be used on your cards, scrapbooks, altered books, journals etc. The domino beads can also be used for wonderful jewelry projects because they are pre-drilled. Asian dominos or mah jong pieces are also a popular addition to any art project. The glass like rectangles (glass like tags) are a unique and exciting new line to this page.
There are a number of different ways to add something to your domino so you can hang it as a pendant. You can use the fold over bails- just measure to accomodate the thickness of your domino; screw eyes can be added by drilling a small hole at the top (if they are not already pre-drilled), add a little zap of glue, possibly a flat bead to add some oomph and screw in the screw eye-think about the way you want the screw eye circle to end up either facing front to back or side to side. You can also use the screw eyes on the bottom to dangle some beads or a charm (jewelry head pins will work too-but you have to glue them in). You can use something like the Tim Holtz clips too. You can use a tube bead and adhere to the top of the domino but make sure the tube is large enough to accomodate your ball chain, ribbon, cording, etc. Use a pin back with bail and you have the option to wear as a pin or hang on a chain. There are metal tubes you can get at a hardware store. The copper one I used on one of the sample was acquired at a yard sale in some screws & bolts.
All in One Charm on Domino by Corrine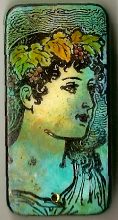 Corrine's Acrylic Painted Domino
Corrine's acrylic painted domino
Both of these ladies are from the domino sheets.
Domino Beads~
All three sizes have now been discontinued by my supplier. I keep the info up as some samples and ideas you can use with other dominos. Stores like Walmart & Target carry them in the toy section. These are not drilled dominos but you can use them with the pin back & bails to create a pin and/or necklace with them. You can also attach a fold over leaf bail or bail mount to the back of them to use for a necklace.
We still carry the small size domino undrilled and is below on this page.
Don't forget to order pin backs for your dominos
How about a pretty leaf bail for your domino?
Use copper foil tape or silver foil tape to go around the perimeter of your domino for a cool look
Corrine's Domino-Stampers Anonymous Stamp
Use Terrifically Tacky Tape to embellish around your dominos. You can even emboss with it.
Glass Look Embellishment Rectangles~They come in 2 sizes, small measures approx. 11/16" long and 7/16" wide. Large measures approx. 7/8" high and 5/8" wide. You can stamp on these (use your non porous inks), adhere alphabet stickers or images onto them, they are unique and versatile. The rectangle is frosted but you can see thru it so they also work great with collage.
Small- approx 60 pcs in pkg.
Large- approx. 30 pcs.
$1.39 Any size package

Glass Look Embellishment Rectangles, Small, $1.39
Glass Look Embellishment Rectangles, Large $1.39
Faux Glass Look Stars~ These are made of the same material as the Faux Glass above just in star shape and assorted colors like orange, brown, yellow, lavender, clear and pink. They are somewhat transparent, depending on the color so you could apply them over a letter or word. They measure approx. 5/8" in diameter. Approx. 60 pieces in a pkg.
$1.39
Practical Faux Glass Rectangle Ideas~ Since I like to bead and can never figure out if something is delica seed bead, 11/0 sead bead, etc. I used the faux glass to mark the type of bead and slid it on a ring and then followed it with the type of bead it named. Very handy-you could take it with you on bead shopping trips.
Can't keep track of your ink colors, put a small dab on a small rectangle, ink color name and put on a key ring and take with you to your favorite stamp store.
Corrine's Stampers Anonymous Stamped Domino
Medium Dominos- Undrilled~These dominos measure approx. 1 3/16" long and approx. 5/8" wide. They do not have any drill holes in them but you can use them on necklaces with a fold over leaf bail or the flat mount bail (link below for bail page). They are plain on one side and have the domino mark on the other side. Pkg. 14 dominos.
$3.00
Large Undrilled Dominos- These measure approx. 1" wide and approx. 2" long. Pkg of 14 Dominos.
$3.00
Link for our wide selection of bails to use with your dominos.
Corrine's Domino-Stampers Anonymous Stamp
Check out bails you can use for the plain undrilled dominos
Domino Rubber Stamp Sheet #120~This sheet measures 8 1/2x11" and has 27 stamps on it designed to fit dominos or to be background or accents for dominos or other projects. Try them on your inchies too.
$22.99
Domino Rubber Stamp Sheets, #121~This sheet has 29 different designs on it suitable for dominos, inchies, ATC card and any other project. These are deeply etched stamps that provide a nice stamped image.
$22.99
These domino rubber stamp sheets are geared towards the size of dominos you would find in the store like Walmart and Target. They are found in the toy section with games like checkers and come in metal tins.
Rubber Stamp Sheet #108~There are a total of 29 stamps on this sheet ranging in size to fit a domino to smaller accent stamps.
$22.99
Fairy Garden spirits Domino Stamp Sheet #007~This sheet has 11 stamps on it. There are 6 stamps that are domino size and then 4 small accent stamps and 1 larger swirly leaf border stamp. The whole sheet measures approx. 5"wide and approx. 3 3/4" high. The sheet was colored by Kimberly Crick.
$14.99
This is a little business card case I picked up somewhere. I put the little mosaic stones on it-probably over a year ago, just waiting for the right thing to put in the middle. These are 3 of the medium size dominos I carry stamped with images from the domino rubber stamp sheets. I colored in the are they were going to set with blue alcohol ink and then glued them down with Matte Glossy Accents and used it around the perimeter to fill in also.
These are 3 of the gals from the domino rubber stamp sheet. I think the center one looks like Princess Diana and they are stamped on the medium size dominos I carry.
This is one of the ladies from sheet #121, and she is 4th from the left on top row-hard to tell. She is stamped on one of the white dominos that come in the game tins.
This necklace was made using 2 larger dominos that had holes pre-drilled on the sides and one smaller pre-drilled domino. I used carpet tape as the base and cut out 7 Gypsies paper using a chevron style punch from Punch Bunch. I set out the chevron shapes on the double-sided adhesive carpet tape (available in Walmart hardware section) and aligned the chevron shapes in pleasing pattern (one was lined up horizontally & the other vertically) and then trimmed it to size on the domino. I painted the sides with Golden brand black gesso and strung them together with beading wire and assorted beads.