Craft Scrubbie from Ranger~ If you are like me and find that your fingers are the best applicators, you know that it can be hard to get all the ink and paints off. This scrubbie works wonderfully!!! After I tried it once, I was a believer. It is gentle to your hands but does provide a bit of abrasion but in a truly gentle way. It works to remove most craft mediums and you use in conjunction with soap and water-or not. I have used it both ways. The package description reads: ...is a gentle and effective way to remove inks, paints, glues and other craft mediums from hands. It gently exfoliates most types of dye, solvent and permanent inks as well as paints and glues when used with soap and water.
I have not used it enough as yet to see if the bar reduces as you use it. It measures approx. 2 3/4" in diameter (bar is round).
One bar per pack.
$4.59
Pitt Artitst Pen-White~ This is a opaque white India ink pen. It comes with a bullet tip 2.5 mm point. This is another new favorite of mine. It is waterproof, permanent, archival, odorless. You should store it horizontally. It writes on many difficult surfaces. I have lately been using it on top of Gelatos. I tried some other things that did not work, so I was very happy to try this and have it work. Pitt makes many pens in many different colors and sizes. They are a very good brand.
I could not find ounces on package but the pen tube measures 5 1/8" high and approx 3/4" in diameter- if that helps.
Sold per pen.
$6.29
White Opague Pens from Ranger~ Please note-even though picture shows a pack of 2- I am selling them individually- cause sometimes you just want to try it out before you commit to more. So that being said, I carried this pen several years ago. I dug mine out recently to try since I have been working with Gelatos- I have made dots and doodles on them and has been fine. It is designed for doodling, accenting stamped projects and journaling on colored papers. At the time I first carried these, they were the only one I found that actually did work as stated. This is a bright white pigment ink with a matte finish. It really does make papers and embellishments pop when you use it. So again, I am selling it per pen, one at a time.
$2.99
Dylusions Printed Adhesive Canvas Panels~There are 8 different printed panels from the artwork of Dyan Reavely. I personally liked all the other panels except one, so I was pretty happy with it. Use them as a jumping off point in your journals or projects, cover books, scrapbooks, etc. Dyan is an artist working with Ranger now and you can see her artwork online in many places. This is a pack of 8 panels that measure approx 5 1/4" high and 3 5/8" wide. They are adhesive backed so you can peel and stick.
$7.99
Dylusions Adhesive Backed Canvas Panel~ These canvas panels are great for use with ink sprays, acrylics, Gelatos, watercolor, and most any medium. They measure 3.375" wide and 5.25" high. They are adhesive backed so when you are done with your project, just peel the backing off and adhere to your books, scrapbooks, etc. You can cut them in half, strips, etc. to use many different ways. There are 8 canvas panels inside.
$5.79
Small Plastic Dropper~ These are a handy little item. I have been using them of late to add paints or gesso to Microfine applicator bottles. You can also use them to drip paints onto your projects, add inks, etc. It is 20 ml dropper. Sold per dropper.
$0.95
Fineline Applicator Bottle, 20 Gauge Tip~ This is another new favorite of mine for 2016. I used it in a class to add a written border around a project. It was filled with Faber Castell Chalk Black Paint. It did such a good job and the end result of my project was very pleasing. The applicator cap has a metal wire in it that you reinsert into the tip after use and it keeps everything happy and flowing smooth the next time you want to use it. I have one filled with the chalk paint and one filled with white gesso. I am selling these per bottle. The bottle itself will hold 1.25 fl. oz. It is re-usable, air tight, non-clogging and a great tool. Draw, write, squiggles, zentangle, etc. The 1st time out, I would recommend trying it out on a scrap piece of paper until you get the hang of it- which is pretty quick.
Sold per bottle.
$5.19
Cityscape Embossing Folder~ This folder has the cool cityscape scene. It measures 4.25 x 5.75". The tallest building measures approx 3 1/4" tall. I love the cityscapes. I grew up in Pittsburgh, Pa. We didn't have malls then, so typically you would get on a bus and go to downtown. I still love to drive into a downtown area and I love looking at the tall buildings.
$3.49
Metal & Glass Fillable Pendant Kit~The barrel is glass and the top and bottom are metal with a leaf design. It has a metal eye pin going through the center and a stopper on the end. You can fill it, then curl the eye pin wire up in a swirl on the bottom and hang as a necklace or hang in your window as widnow jewelry, make an ornament, etc. The pendant measures approx. 1 1/4" high and is approx. 3/8" in diameter. In case the eye pin gets beat up- just take your finger and smooth out wire if it is a little crooked. Just the nature of the beast. Sold per pendant.
Also available in the antique brass and copper shown below.
$1.79
Antique Copper Glass Fillable Pendant~ Sold per piece,
$1.79
Glass Fillable Pendant, Antique Brass Finish,
$1.79
Rectangle Hinged Candy Tin~This cute tin comes hinged and ready o decorate with paint, polymer clay, paper, etc.. It measures approx. 1 1-3/16" front to back hinge and 2 1/4" wide. You can also use them to store your favorite embellishments or precious momentos.
Sold per tin.
$1.59
Wood Cotton Swabs, Pkg of 10~Cotton swabs with a long wood handle are great for getting in those small places where you need a little extra help. All in all they measure approx. 6" long. Use it for applying or removing stuff. They come in a package of 10 swabs.
$0.69
Wood Art Tags~This is a very versatile product that you can use so many ways. Use it to add to scrapbooks, cards, books, gifts. A great way to embellish or add a nice accent to any project. These tags measure 3.25" high and 1 5/8" wide. They are 1/16" thick. You can paint them, stamp them, engrave with a wood burner, cover with transparent tissue tape, a pretty napkin..just a whole myriad of things you can do with them.
Sold in package of 8 tags.
$1.99
This wood tag sample was made by applying a soft color on the tag using Ranger Distress Inks. I also added some colorful washi tape over the color along the bottom of the tag. Then I added Ideaology transparent tissue paper. I also added a line of glitter stickles along the bottom too.
Cut-N-Dry Pen Nibs~Ever wonder how people get into those small areas with their paints, chalks, inks, (even embossing ink) etc? Well this is how- these pen nibs allow you to control and add color to even the most difficult and smallest of areas. They measure 2" long and are made from the same material used in the best graphic art markers. You can also tint photos with these also. I don't typically change nibs with color- you can roll them over paper or towel to get rid of the pre-exisiting color- but then I am not a purist either. But -for the purists-you can make a custom pen with each individual nib. Comes in a package of 10 nibs.
$4.95
Corrine's Blue Hair Honey Painted with Nibs
This tag is an example of what you can do with your nibs. I stamped and embossed my little blue haired honey, painted the tag with Tim Holtz Distress Inks and I wanted her clothes to pick up the same colors, so using a nib- same one for all colors, I just rolled it on the ink pad and I was able to color her in with the exact colors I used on the tag. I didn't have to try and match a color from markers- I created a made-to-order marker with the nibs. Although you can't tell from the scan, I also added Ranger Glossy Accents to her eyeglasses.
Bone Beads used in Mexican Shadowbox Project
Squiggly Silver Bookmark~This is just a neat little bookmark. It measures approx 3 1/4" high and about 1/8" wide on the flattened squiggly part. The top of the book mark has a jump ring attached so you can add your favorite beads, fibers, shrink art, brass charms or any other little item that you think to add. It is a nice bright silver tone finish and will make a wonderful gift, also. Pkg of 1 bookmark.
$0.99
Green Leaf Beads~These are just plain fun. They are plastic and have a ring at the top so that you can use them in jewelry or adhere them with your favorite Articus Studio adhesive to your floral cards, scrapbook pages, etc. Add them to your favorite fibers for a neat look. They even have a curve in them so they won't lay flat but will add such dimension to your project. They measure approx. 3/4" long including the ring and approx. almost 1/2" at its widest. I think they are a little darker in color than the scan is showing, they are fairly translucent so the light shining thru makes them look lighter. Pkg. 64 pcs.
$1.29
A-dorable Mini Glass Bottle & Stopper~These are really cute! These bottles measure approx. almost 1 1/4" high including stopper and approx. 1/2" wide. You can fill them with sand, ink, messages in a bottle, seed beads, small swarovski crystals, etc. They have a very nice lip on them that would work well if you want to use wire and wire them to a shrine, box, book, etc. The stopper is plastic and has a hole at the top so that you could hang from wire, necklace, cording, ribbon, etc. Very versatile. Pkg. 3.
$0.69
Sample of what you might do with Diamond Dust. This is a tin- you might recognize it if you have ever ordered any small trinkets or embellishments from Maya Road. The scan is bad because on 3-d items it tends to focus for the closest so the cute little snowman inside is all blurry. I used some dimensional adhesive squares to hold him in the tin, even though this is not diamond dust (small no hole beads)-you could use the diamond dust and then I put a little Ranger Glossy Accents on the tin lid and sealed it shut. It already came with the clear acetate window- so was very easy to do. Just add something to hang it from and you have a unique Christmas ornament. Make it even more personal with a photo, some piece of memorabilia, flowers, etc.
Glass Bottle Charm ~ It comes with cork stopper and is 22 mm high or approx. 7/8" high and approx. 3/8" in diameter. The stopper has a screw eye in it so that you can hang it on a chain, ribbon, beaded necklace, etc. Fill it with sand, perfume, beads, picture, etc. You are only limited by your imagination! Pkg. 2
$1.35
This book uses the road sign "One Way" on it with the little angel girl and a Tim Holtz Trinket Pin above her head. It also uses the 1x1" chipboard squares.
This book was a Christmas gift, and I further embellished this secret journal with the traffic road sign stickers "Keep Out" and "One Way". It is hard to see on the picture, but it also uses a rectangle Tim Holtz Fragment over the word "You've" on the text. The man with umbrella and the birds on the wire are also Tim Holtz stamps.
Color Duster by Judikins~ This is a great little tool for applying inks. Years ago when I first started selling items and before these were available, I found an old fashioned type barber brush- the kind used to apply shaving cream and I bought what limited supply was available for sale and I loved using it. It was so nice for applying inks in a stipple kind of fashion. Typically these are sold in a pkg of 4, but who needs 4. One is great and maybe one more for your travel kit. I never cleaned mine in beteen use, even if I was immediately using a different color ink- I liked the ook I got if I had a bit of a carry over of the ink. Some people don't care for that, I know, but for most- 1 or 2 would be plenty. It measures approx. 2 1/2" high. Sold individually.
$1.45
Plastic Spoons~These are so handy, you will wonder what you ever did without them. I keep one handy in my Pearl Ex container, but great with beads, micro beads, embossing powder, UTEE and more. It seems to give you a little more control when using some of these products. Measures approx. 4 1/4" long and the spoon head is approx. almost 3/4" wide. Pkg. 5
$0.85
Prismacolor Blender Pencil~ If you love working with colored pencils and you haven't tried a blender, you will LOVE it! This pencil is colorless. It is specially formulated to soften hard edges and to lighten and blend colored pencils. Hate color pencil lines?-use the blender. It creates a soft, subtle smooth blended look. Acid free and non-toxic too. Sold per pencil.
$1.99
Tickets~ Get your tickets here! Just a small, have fun pack of 25 tickets. The center is blank for your favorite small stamp or other decoration idea. The ticket is a maize yellow accented with red border and black numbers.
$0.39
Fun & Flirty Eyes~ You get a total of 40 fun pieces to adorn your cards, ATC's, scrapbooks, etc. There are approx 40 eyes in the bag in 5 assorted colors of green, blue, yellow, pinky red and white (not shown). The eyes measure approx. 5/8" in diameter or 7mm-not too big and not too small. I fell for these the moment I saw them--many possibilities! How cute would they be as the center of the silk flower above...
$0.79
Add a bit of fun and whimsy to even a spooky ol' skull with the flirty eyes. The stamp is from the Tim Holtz ATC Collection and is covered with a Tim Holtz Fragments piece and a pink flirty eye.
Tiny Applicators~ These are great for getting into those small areas. I have used these before for chalks for those really tight spaces. The tool is slightly bendable so you have some give when working with it. You can use these for precise applications of solvents, adhesives, paints, Rub-N-Buff, Pearl-X and other such powders, chalks and more. The precision tip retains the material on it until applied. It is a hard little worker. You can re-use these applicators too. The handle color may vary from picture shown. Pkg. 6
$1.79 OUT OF STOCK
Micro Tiny Touch Applicator~Similar applicator as above but the tip is just a little smaller. Great for really tight applications on any of your projects, model building, etc. They are re-usable depending on what your application use is. Pkg of 6 applicators in green.
$1.79 OUT OF STOCK
German Gold Foil Scrap-Key Shape~This key measures approx. 1 1/2" high and approx. 3/4" at its widest. It is made from paper and made in Germany. Pkg of 4 keys.
$0.89
Mini Spring Clothespins~ This mini wood clothespins are so cute on cards, books, scrapbooks, altered projects, etc. You can even hang your favorite cards from twine with them. The mini pins measure approx 1" from top to bottom. You can paint them to match your project too. They come in a natural wood color. Pkg of 50 clothespins.
$1.00
Sanding Block~This is a 4 sided rectangle sanding block. It measures approx. 3 3/4" long and 1" wide on each side. This is great to use for sanding your shrink plastic, wood, add distressing to paper or use to trim paper by sanding away. It is also a good size to put in your traveling craft supplies, too. Sold per block.
$1.39
Wood Ruler - 6 Inch~Great little embellishment. You can cut it apart and use it inch by inch. It has room to stamp on it, color it, wood burn it, just a lot of possibilitie with it. It is wood and is approx. 1/8" thick and approx. 1 1/8" wide. Being wood- it does vary somewhat in color so no 2 will be identical. Sold per ruler.
$0.45
To add extra jazz to this hand bound book, I turned the wood ruler over to the plain side, tinted it a little with Memories Mist spray and added some upholstery tacks, cutting off the extra pokey part after I hammered them in and adhered it to the book using Claudine Hellmuth Matte Medium adhesive.
Wood Cube-1/2 Inch~I know, you are thinking, what am I going to do with a small wood cube- well, use them for feet on your projects. I have recently been decorating some large wood cubes and using wood cubes and finials as feet. Sooo cute!! They take paint or ink well- I like to paint them with acrylics and then add some of the Tim Holtz Distress inks to age them a little. Sometimes it will soak in and you have to add another smidge of the distress inks. Try covering with your favorite dictionary paper or other patterned paper. These are 1/2" square and use them to add height or depth to a project or piece. Sold per package of 12 cubes.
$0.89
Wood Ball Finial Foot~This is a style of wood that I think will lend itself to "feet" on a project- a classy look. The finial is approx 3/4" high and approx. 5/8" wide as measured on the flat portion. You can use it either way-with the ball at the bottom or the top. The ball also has a flat edge on the top center of it. Use acrylics to paint, ink, cover with clay. You could also use them as a little head and shoulder too. Many possibilities. Sold per package of 6.
$0.89
Websters Pages Sparklers-Scalloped Assortment~These are a very pretty "pretty" to add to your special projects. These are flat backed scalloped buttons in 5 different colors. Each color has a button with a rhinestone and one plain- pink peridot green, light blue, red and topaz brown. The buttons measure approx. 5.8" in diameter. Adhere using your favorite Articus Studio adhesive, glue dots or raised dot. Package of 10 sparklers.
$4.99
Add height and design to a project with wooden legs. These wooden legs were painted black with black gesso and the white circle detail added with a Ranger Inkessentials white pen.
Corrines Wood Coat Hanger Sample
This little wood coat hanger sample is made using Claudine Helmuth Sticky Back Canvas product, painting the canvas and then stamping on it. I have discontinued the coat hanger but you might be inspired to do something else from the picture.
Mini Misters~ These are a great tool to have handy but usually are sold in a pack of 3. Not everyone wants or can use 3 of them or may just want to try them to see if they like them- so these are sold individually. You can use these in so many different ways- use with water or your favorite medium like alcohol inks. Some other ways to use them are: with distress inks to create unique backgrounds; for setting Perfect Pearls pigment powders; activiate watercolor paints or blend watercolor pencils; create a faux watercolor look by misting directly onto stamp; keep metal clays moist while working; as a release agent with polymer clays to mist molds, brayers, texture plates and more; mix with Adirondack acrylics to creat paint glazes. That should keep you busy for awhile. They are ideal for travel too and measure approx. 4" high (including cap) and approx. 9/16" in diameter.
Sold individually. (my choice of color-but most are clear looking ones)
$1.67
Old Style Clock Face, "Paris" Brand~This is a fun little embellishment. It measures approx. 3/4" in diameter, has a metal back and is flat so easily adheres to a surface. It is March, 2010, at this posting and waiting for the new Alice In Wonderland (AIW) movie to come out- great for use with the cool AIW stamps- the rabbit- "I'm late for a very important date", great with clock papers, invitations, etc. Sold per piece, Pkg of 1.
$1.00
Wood canister box from thrift store covered with Graphics 45 paper and used a clock face as an embellishment. This one was an extra I had laying around the house and is actually bigger than the one I have for sale. I also put it in a flattened bottle cap to give it a little more oomph.
The Claudine Hellmuth matte medium is an excellent way to adhere papers or objects to a surface. I applied the medium with a little plastic trowel applicator to the box and added the paper- you can smooth it all the way to the end of your surface so you make sure all the ends are perfectly adhered. I sanded the edges a little and it really does not look like something is glued to the box-looks like it came that way. Great stuff! I love adhesives- I know, I'm weird.
Wood Crown Cutout~This wood crown cut out measures 3" high and 4" wide. This is a wonderful inexpensive embellishment that you can really jazz up and use on a book, scrapbook, altered art project, etc. On the sample below, I painted it with acrylic paints, used the Crop-a-dile to punch holes in the crown tips. But then I didn't use the holes, I covered them with Tim Holtz Snaps instead. I also added some metal beads and adhered them with assorted Tim Holtz brads. The brown center portion is a embossed grungeboard circle colored with Distress Inks and I used the crop-a-dile and punched a hole in the center of the grungeboraad, added a large eyelet and covered the hole with a pretty brass floral charm with a brad in the center of it. I added some additional metal bead embellishments along the side and stamped it. It was a fun little project. Try some rhinestones, fabric, felt, scrabble tiles, etc. Sold per crown.
$0.29
Embellished Wood Crown Cutout
Scalloped Sparklers, Rhinestone Brown~These are like the one above except it is a pack of all 1 color- and all the pieces have rhinestones in the center. These glat backed, non adhesive vintage look buttons measure approx. 5/8" in diameter. Pkg of 10 pieces.
$4.99
Hake Brush, 2"~This is typically used as a blending brush. Ideal for blending watercolor and apply gesso, paste, varnish, etc. It is made of sheep hair and also can be used for thinning oil and other media, in ceramic art too. It has a flat metal ferrule- aren't you impressed- that's the metal thing that holds it to the wood. We both learned something. It has a 5 1/2" handle.
$2.25
Mini 2x2" Stretched Canvas~ I love these mini canvases. Great for use in box collages. This picture shows how you can display them with a mini easel but the easel does NOT come with the canvas- just to show the cute factor of these. Since these are stretched over wood- you can also use the back of the canvas and create a wonderful little shadow box effect - but would be mini-mini. Use your acrylic paints, water color, collage papers, etc to create a lovely little masterpiece. Sold per piece.
$1.59
Cream Grosgrain Ribbon~ I always get confused- do you pronounce it gross-grain or grow-grain, never quite sure. But it is a pretty, bright cream colored ribbon. It measure 1 1/2" wide and is pre-cut to 85" length- which is just over 7 feet. This was a special buy, so the savings are passed on to you. Use for book marks, book binding, cards, scrapbooks, boxes,
$1.00
Graphics 45 Chipboard Buttons~This is a set of 24 pieces of chipboard buttons done in the craft paper color with black graphics. There are 3 sizes of buttons and 8 of each size: 1.375" (35mm), 1.125" (28mm) and .875" (22mm).
$5.39 Sale $2.99 limited to stock on hand
I recently had my first foray into beeswax at the Artful Voyage to Mexico, Oct., 2009. I really liked the small taste of it that I had and promptly purchased a DVD from Claudine Hellmuth on beeswax collage- which I like the look of that too. My first attempt was quite simple. I will have a sample up shortly of the project I used it on.
It was a black shadow box frame from Ikea and the back was a sturdy masonite like board. We had adhered some collage papers to the board along with adding color with the Distress Ink Pads. After that was accomplished, we used the stylus tool with the flat iron tip and applied the wax with that and then smoothed it out until we got a look that we liked. After it cooled, we applied gold perfect pearls. The look was just so nice- although it is hard to tell in the frame, since it is deep, that it was beeswax- but I loved the look of the finished product. There are some videos online that show some cool things done with it. I just love the endless knowledge out there at our fingertips with the internet. Remember when you would have to take a trip to the library to hopefully find out some information on a topic.
Still, after all these years, I am still a sap for all these tools and techniques. Beeswax was something I thought I could live without until I tried it...who knew???
ATTN: MELT ART CUSTOMERS
Ranger, the manufacturer of the beeswax is discontinuing this item, along with the melt art machine and other supplies. They will, for now, continue with the Melt Art Embossing enamels. So I will be unable to order more beeswax in, Supply limited to stock on hand.
Melt Art Beeswax-Natural~ Since I am new to this medium I cannot offer much advice as to what color- I think it is a matter of preference. This is the natural color and so it looks yellow. You can use the melted beeswax to brush over canvas or paper projects, create a unique embellishment from silicone molds, altered art projects and encaustic techniques. In the Claudine Hellmuth video I bought (from Creative Catalyst), she uses Crayola crayons to add color to her collages. This color may add a more vintage look to your project. It comes in little pellets packed in a plastic 3.5 oz (100g) jar.
You always want to use natural beeswax for your projects- if memory serves me correctly, candle wax just won't do and will melt quite easily from your project. The beeswax is much more durable and stable.
$4.99
Mfg Sample by Wendy Vecchi
Art Parts by Wendy Vecchi are thick, durable paper board surfaces designed exclusively for altering. You can cover them with paper or fabrics, color with ink, paints and other liquid mediums. They will not warp or bend the way a thinner chipboard does.
Art Parts Large Circle Frame & Large Square Frame Parts~This comes with 1 solid square measuring approx. 5 1/2" across and 1 square measuring the same but it also has an inside square- so 3 square pieces and the large solid circle measures approx. 5 1/2" in diameter and the 2nd circle measures the same and then has a smaller circle- 3 pieces for a total of 6 pieces. These would be great for a home decor item- decorated and sitting on an easel on your table. Great for decoration on front of books, scrapbooks, etc. Great for trading too.
$3.50 Clearance
Mfg Sample by Wendy Vecchi
Special Project Art Glass~ These are for those special projects you want to add that extra spark to. This decorative art glass measures 3/4" x 3/4" and has a raised center coming to a point and highlighting 4 separate triangles within the glass. The glass does not distort your image except for a little directly under the center point. This art glass is complete clear also. You can add them to your microscope slides or other size glass to highlight a particular area on your project. You could turn them into matching earrings for a matching pendant and earring set. The picture shows these right side up and upside down for a better feel of the glass. Unfortunately, they didn't scan too well but will truly be a beautiful addition to your art piece. The small size and the design make these a tad more expensive that the larger glass pieces. Pkg. 1
$1.15
Use these leaf bails with your microscope slides or other glass sizes, just fold the bail and glue onto your microscope slide.
You can also use them on small projects as angel wings.
Gold or Silver Finish Leaf Bails~ Now the jewelry making name for these is Beaver Tail Bail- however I prefer leaf because that is what it reminds me of. To use, you can attach these with jewelry glue to stones, donut pendants, etc. to create a stunning necklace by folding in half. You can also use them as an embellishment for your scrapbooks, card making etc. I saw a wonderful example in a book or magazine but couldn't find it again after I received these in. I am sure you can relate to that! They measure approx. 1" long and approx. 1/4" at widest point on leaf. These are not for wider projects like dominos- work best with thinner projects. Pkg. 7.
$1.19
Gold Finish Leaf Bail, Pkg. 7
Silver Finish Leaf Bail, Pkg. 7
Jewelry Tweezers~ These measure approx. 3 1/4" in length and have a flat surface for gripping items. I think they would work great if your are soldering your slides and need something to hold them (they get pretty hot). You may have a different use for them in mind. They are not spring loaded so you control the open and close function manually.
$1.89
NEW!!! Faux Glass.....
Not really, just clear acryllic craft plastic. I thought this would make a lovely alternative to the big glass shortage of 2007.
You can use this acrylic in place of the glass. I think it will even work in the frames, although you will have to bulk it up to use the frames- make your project thicker.
You can sandwich your art work, photos or collage between 2 pieces of the acyrlic and wrap with the copper foil tape or other tape. I think the end result is quite nice and a wonderful alternative to the glass.
These acrylic faux glass come in 3 sizes, 1"x3", 2" x 2" and 1.5" x 2". I even soldered 2 pieces together after sandwiching in the artwork and wrapping with copper tape. It worked pretty good but the solder was hard to get to flow evenly and fast. The acrylic does not conduct the heat like the glass so it was slow going. Need some patience for it but it can be done.
Acrylic Faux Glass ~ You can see from the photo how I was able to solder this together using a clip from the Suze Weinberg book. This alternative to glass is lightweight, won't break, chip or cut and is also acid free. You get 24 pieces to a pack in any size.
Acrylic Faux Glass 1.5" x 2" size $3.49
Acrylic Faux Glass 1" x 3" Size $3.29
Acrylic Faux Glass 2" x 2" $3.49
Corrine's Shadow Box Frame Sample
Darcie's Acrylic Shadowbox Frame-Kingston Style, Small~This is the frame that is shown in the sample above. These are easy to use and just have such a great look when finished. It measures approx. almost 4 1/2" across and approx. 2 5/8" high. It comes with 4 layers including the solid layer of solid sturdy chipboard, the acrylic top layer and several clips to hold it all together. The acrylic portion has a blue protective layer over it so you have to peel it off when you are ready for it. To finish it, you can use your decorative papers, alcohol inks, paint, photos, small trinkets, brass charms, rubber stamped images, rubber stamped images cut out. Many possibilities for these. I like them too because they are unique. You can display them on a tripod when done, hang on the wall or you could place them inside a larger shadow box frame too. Add to the front of scrapbooks, altered books, etc. One package is enough to make one frame.
$4.99 Sale $3.00
Darcie's Acrylic Shadowbox Frame, Raine, Small~This is the frame shown in the sample above. It comes with 1 solid chipboard piece and 3 cut out chipboard pieces and the acrylic cover and clips to hold it together. It measures 4" x 4". It also comes with directions inside. These are a creative and fun way to display your small "finds" and favorite papers.
$5.99 sale $3.99
Mfg Sample made by Darcie
Darcie's Acrylic Shadowbox Frames, Tristan, Small~I like all the scrolly ins and out of this frame. It comes with a solid chipboard backing and 3 chipboard shapes cut out to build up the shadowbox frame look and 1 acrylic piece for the cover along with clips to hold it together. This is a strong chipboard- more like a wood almost. It appears to be several layers of the chipboard- it is sturdy. It measures 3 7/8" high x 3 7/16" wide.
$5.99 Sale $3.99
Darcie's Acrylic Shape, Tristan, Small~This comes with 2 pieces- the solid chipboard back and acrylic cover. The acrylic cover is protected with a blue cover that you peel off prior to use. These are great to use as a Christmas ornament, focal piece on the cover of a book, scrapbook, used in a shadowbox frame or other frame. Again, you can use your pretty papers, photos, brass charms, etc. It has four holes- one on each side so you can hang with chain, ribbon, floss, cording, etc. If you don't like the look of the holes- just put a brad in it to hide the hole- cut off the legs of the brad and glue on. It measures approx. 3 3/8" x 3".
$2.99 SALE $2.00
Fancy Bottles~ This is a set of 3 different bottles that have a wire wrapping at the top that you can use to hang the bottle as a pendant. You could also use the wire to hang them in a shadow box frame. The wire can be removed and use without the wire in any other project. The bottles come with a cork stopper. The heart shaped bottle measures approx 1" at its widest part and approx. 1 1/4" high. The -I will call it standard size- measures approx. 5/8" wide and approx. 1 high and the 3rd bottle, round shaped, measures approx. 3/4" wide and approx. 1" high. The round bottle also has depression in the center on both sides that adds a special look to the bottle. Set of 3 bottles.
$2.29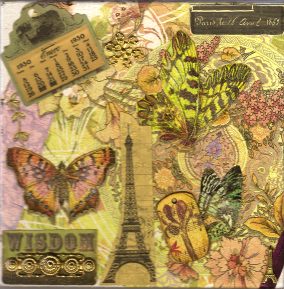 Corrine's largeer size canvas collage
This is a collage done on a larger canvas- just to give you an idea of some things you can do with canvas. The base is covered with pretty decorative napkins.
Eclectic Embellishment Necklace by Corrine
This necklace was inspired by the second Tim Holtz Book. I used suede lace, wire and an assortment of Articus Studio embellishments, past and present like photo anchors, keys, brass moon face, stamped faux glass rectangles, door knob, brass key heart, bingo tiles like ones above and also blank and stamped, Tim Holtz License Plate Paper and some other odds and ends laying around the house. Who knows- it may be an upcoming class.
This is a quirky little piece I thought I would try using a spoon. I hunted for a silver spoon but all of a sudden it seems you can't find them for anything so I used stainless steel and hammered the spoon part flat- no easy feat. Added a couple embellishments, bottle cap stickers-simple.