The Ultimate - Crafter's Pick
Crafter's Ultimate~ I believe it is. This water based, non-toxic super glue adheres to metals, plastics, glass, ceramics, vinyls, painted and varnished surfaces, wood, fabrics, leather, paper and more. It is great for gluing your favorite found objects to your project. It is also useable as a water base contact cement for non-porous materials by coating both surfaces, allow it to go clear and them immediately press together. Replaces toxic glues, cements and hot glue. A great universal household glue. Great also for pin backs, jewelry settings and so on. . 8 ounce size.
Polymer Clay Artists- While attending the CHA, 2005 trade show, I had the opportunity to speak with Maureen Carlson, a well known polymer clay artist. She uses The Ultimate by Crafters Pick for adhering her polymer clay creations. I took a class with her and we used it to adhere clay to paper. Worked great.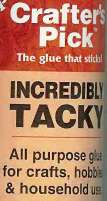 Crafter's Pick Incredibly Tacky~ It really sticks! An all purpose glue, fast grabbing, fast drying and flexible. Great for gluing odd shapes, fabric, wood, paper, ceramics, glass, leather, some plastics and metallic surfaces. Non toxic and water based. Dries clear. 8 oz size.
PVA Glue~ A popular with book artists. A professional quality adhesive that dries clear, acid-free, solvent free and water soluble. Available in 8 oz. size only.