Bone Folder~ Used to score, fold and crease paper, a valuable asset for book makers or paper crafters. Measures 8" long x 1" wide. Easy to hold in your hand and work with. Value priced.
Book Pockets~You remember these, the library used to put the return dates in these. There are 3 sizes to choose from (the smaller one is pictured). ALL are 3.5" wide. The large is 6.25" high; medium is almost 5" high and small is 3.5". Make a book with them or use them to alter your scrapbook pages, altered books, put them on your cards and fill with a pull out image or magnet. Each size is a Pkg/3.
Book Board~Thick and sturdy for book making. Comes packaged 4 pieces. 4.75" x 6" (1201 x15.2cm).
Binder's Needles~A set of five heavy duty needles, blunt points for binding your books or sewing the signatures. (New, lower price)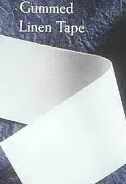 Gummed Linen Tape~High tech neutral PH adhesive sets fast and lays flat. I use it to make hinges in book board. You can also use it to hinge heavy art, reinforce books or paper artifacts, book or art repairs. To use- tear desired length, moisten adhesive thoroughly, when it gets sticky then apply. It dries strong and will not creep. Acid free. Pkg. 1" x 5 yards.
TIP~ Check out the corner covers for more great additions to your book project.

Linen Book Tape
Linen Binding Tape - Unbleached and unsized- suitable for sewn book signatures, 3/8" wide and 60" long.