Asian Dominos~Plastic dominos or maj jong pieces. They measure 5/8" long, almost 1/2" wide and a tad more than 3/8" high.
Each package is different. Package of 3.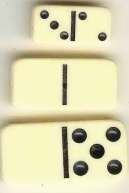 Domino Beads~Stylish & popular, we have domino beads in three different sizes. Each has a vertical hole and each has 2 side holes pre-drilled for your convenience for any need.
Small-Pkg of 12 measuring 30 x 15 x 4.5mm.
Medium-Pkg. of 10 measuring 40 x 20 x 5.5 mm.
Large-Pkg. of 8 measuring 47 x 23 x 6 mm.