Gothic Font Alphabet Stickers~ Set of 84 alphabet letters in Gothic font. Each indiviual alphabet sticker measures 3/8 each wide & high. The overall sticker sheet measures 2.5" wide x 4" high.
Special, If you buy in multiples of 2 sheets, the price goes down to $1.65 for 2 sheets, save $0.35. Order below. For example if you want only 2 sheets, you order 1 item, if you want 4 sheets, you order 2 items.
Tooth Fairy Co. Label~ Everyone needs some tooth fairy assistance at one time or another. Wouldn't it be darling on a little tooth fairy bag made out of paper to slip under the pillow? Label measures approx. 1 3/8" wide and 1" high. Pkg. 5
Mrs. Muffetts Fine Teas & Cakes Sticker~ I fell in love with this one, too cute. Use on scrapbooks, cards, books, paper mache boxes, tin, etc. Sticker measures 2 3/4" wide x 3 7/8" high. Pkg 2.
Mary Jane's Finest Stationary Label~Just too cute! The sticker reads-Mary Jane's Finest Stationary & Gifts- then the smaller lettering reads-We make the world's finest handcrafted papers & specialty cards to give to your loved ones for every occasion- Since 1825.
This label is perfect for labeling your handmade papers or cards for gifts. The label measures 3 1/8" wide and 2" high. Pkg. 3
Architext Alphabet Rub On Decals~ These are really pretty. The alphabet rub on itself measures 1/2" x 1/2" and the over all sheet measures 7 1/4" x 5". Comes with popsicle stick BUT this one can be incorporated later in a project because it also has some of this cool alphabet decorating it.
Paris Collage Rub Ons~Acid free, edge free and smooth to touch these rub ons are perfect for many projects. There are 13 rub ons in all and comes with the transfer stick. These would be great used in conjunction with our eiffel tower charms and/or "PARIS" word charm or our travel charm set.
Lovely Ladies Collage Rub-Ons~ This is a great assortment of vintage women and clothing accessories. These are acid free, edge free and smooth to touch. There are 20 rub ons in all. These would work well with our Lovely Ladies Unmounted Rubber Stamp plate, Dominos and microscope slides.
Nostalgique Keys & Locks Stickers~ Photo safe stickers, a collection of 18 vintage style keys & locks. Try them in conjunction with our library pockets (Book Making Supplies Page), dominos and/or microscope slides
Clear Vintage Key Sticker Collection~Archival quality and hand drawn appeal. You get keys, clocks, ink wells and feather pens. 17 stickers in all.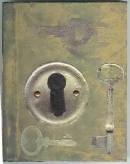 Paper mache book using lg. keyhole sticker & nail head brad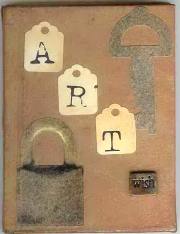 Paper mache book using key & locks stickers & Words charms