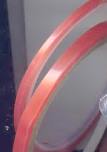 Tacky Tape~ The perfect craft tape. It is very strong, and it will hold just about anything-beads, glitter, foils, no hole beads (micro beads) to wood, glass, metal, plastic and paper- to name a few. It is double sided, heat resistant, non-toxic, acid free and transparent. You can emboss with it. Hint: run it around a domino and add beads, glitter or fibers to it.
There are 4 sizes to meet your needs:
1. Roll of 1/8" x 5 yards. (The narrowest size)
2. Roll of 1/4" x 5 yards.
3. Roll of 1/2" x 5 yards
4. Roll of 1 1/16" x 5 yards
Tacky Tape Roll~ 1/8" x 5 Yards
Tacky Tape Roll- 1/4" x 5 yards
Tacky Tape Roll~ 1/2" x 5 yards
Enter subhead content here
Tacky Tape Roll~ 1 1/16" x 5 yards